Varian Muniya

zooon!!!

Title

???

Age

-- Alternian solar sweeps (-- Earth years)

Screenname

metabolaAnatinus

Typing Style

Replaces "s" with "z"s. Doubles "o"s.

Symbol

o●

Strife Specibi

polearmKind

Fetch Modus

Astroid

Relations

???

Planet

Land of Bronze and Mushrooms

Music
Varian Muniya
, also known by her handle of metabolaAnatinus, is a Troll. Her sign of a full and empty circle is a symbolism of transition and has an orange hue of blood. Varian's quirk involves replacing s's with z's and doubling her o's and lacks full stops or apostrophise. Most emotes are along the lines of duck or bird looking faces, ' '< ' '- . ._ ' 'C being a few examples.
Her name first name means variable and her last name Muniya holds a meaning for wish or desire.
Biography
Edit
Varian really wants to be a light aircraft pilot for her Condesce's army and so had a rather large obsession with collecting model aircrafts. She also does attempt being a mechanic on pieces she finds to no sucess.
Personality
Edit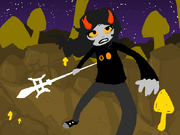 Relationships
Edit
Varian's lusu is a large platypus like monster, which is u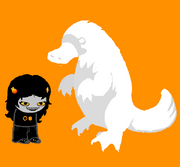 sually living in the river near her hive.
Meduck 15:46, January 3, 2012 (UTC)