Tori Pyrope

lets have fun!!!!

Title

Seer of Mind

Age

16

Screenname

genialCackler

Typing Style

Proper, with a use of extended exclamation and question marks. Types out laughter

Symbol

Scalemate head, or the Libra symbol.

Strife Specibi

CaneKind

Fetch Modus

Braille

Relations

No information

Planet

Land of Thought and Flow

Music

No information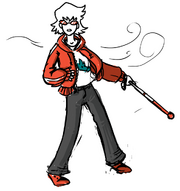 Tori Pyrope
, who goes by the handle of genialCackler, is a swap of Terezi Pyrope into a human. Her symbol is a scalemate head, a scalemate being the plush dragon creatures she collects. Tori types in a proper fashion, but extends her exclaimation and question marks. She also makes a use of Terezi like emotes, however she excludes the 'horn/eyebrows' from the emotes when they are not needed :].
Biography
Edit
Partakes in LARPing with her friends often. Her character is a dragon rider, where she uses her favourite scalemate as her dragon mount.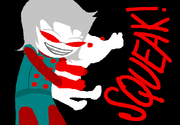 Personality
Edit
Bares no ill will towards being blind. In fact she tends to play fun on it at times, but on an unfortunate side she never tends to admit when she actually needs help around.
She is generally very cheerful. Enjoys games and fun a lot. She holds an interest in justice and the legal system, but feels that it's
Relationships
Edit
Meduck 15:45, January 3, 2012 (UTC)