Liam Chorney

And im a programmer, i think we already established that

Title,

Heir of Light

Age,

13 earth years.

Screenname,

arrogantProgrammer.

Typing Style,

Average.

Symbol,

pixelated CD.

Strife Specibi,

BatKind (baseball)

BatKind (boomerang).

Fetch Modus,

Que/Encrypted

Relations,

consistentlyDeveloping-- Attempted Matesprit.

taciturnGrudge-- Friend

Planet,

Land of Sand and Frogs. (LoSaF)

Music,
Liam Chorney, also known by his handle arrogantProgammer, is a Human. He is heavily arrested to games, allowing him to manipulate technology, which he calls technomancy. He can often be annoying, whether it be on purpose or by accident, and will often misunderstand things if he is missing the proper context.
Biography
Edit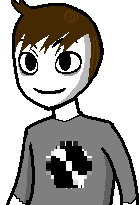 Liam is a extremely intelligent child, but many people say that he doesn't "apply" himself. He spends his time making simple programs and playing video games. He
has become heavily arrested to technology, allowing him to manipulate it, he calls this skill
technomancy
. Liam can easily be found in #TRUTH_OR_DARE_FOREVER typing on his holotop.
Personality
Edit
Liam can be described as very clingy and an extreme pain in the ass. He is very annoying, but will often warm up to people if given a chance.
Relationships
Edit
He currently has no relationships. At the time, he used to be very clingy toward consistentlyDeveloping, but he has gotten over it.
WIP